It is hard to miss Airstar now that our bright, pink sign is up!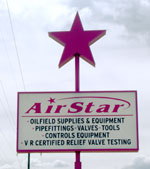 When we first saw it, we thought the same thing everyone else did, which was, "Yikes, it looks very pink and very bright." Not something that anyone would associate with the oilfield, as those of you in it know. We thought we had a big, expensive problem on our hands.
Here's what happened.

After our internal "graphic artist" designed the logo Tony and Kenny decided they would work on the actual wording and overall look of the sign. They finally decided on what would get the message out, so all we had to do was pick the colors. After much deliberation and having heard countless stories, primarily from Lorraine about the first few years in the trenches, we decided on OSHA purple because when the company was founded, Tony used to spray paint all his tools in OSHA purple in order to distinguish them from others. So that was settled, the order was placed and we waited.
When it finally arrived...
Imagine our shock! Everyone kept asking if Tony and Kenny had seen it. We avoided the subject. The guys here at the shop were being "harassed" on a daily basis, with one of them even threatening to quit. We called the sign company and told them we didn't want a pink sign and would they come repaint it. They told us that it was exactly what we had signed off on. Suddenly, nobody wanted to admit having anything to with picking the color scheme.
OSHA Purple
Finally, Tony saw the sign. Legend has it that he takes a can of the OSHA purple and spray paints the pillar. He goes back out five minutes later and can't tell where the color ended or began. And there you have it. Now, it is more of an asset than a "liability". When people call and ask us where we are located, we tell them we are the building with the bright pink star. You can't miss us, even if you tried, particularly at night. We're talking bright! We are ecstatic that the city had no ordinance pertaining to how bright a sign could be….