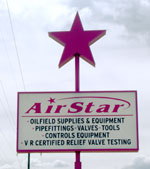 Services
Air Star Inc. is proud to provide the following services:
Valve Repair/Greasing

We are VR certified and carry operator qualifications.

Safety Training

We provide company specific safety training. For more information, contact Carilu Drake.

Emergency Shutdowns

Instrumentation

Crane Maintenance & Service

Translating Services

Need to communicate with your ever growing Spanish speaking force? We can train, develop or translate any document or handbook, and we do it locally. Whether you want your actual company policy or if you need a program developed, we can help.

Gas Monitors

We are certified to distribute, calibrate and repair gas monitoring devices, on site.


Hydraulic Hoses

We custom built hydraulic hoses. Ideal for winterization of you lines. All hoses are built or repaired in house.